May 29th (11a – 6p) | Kern County Museum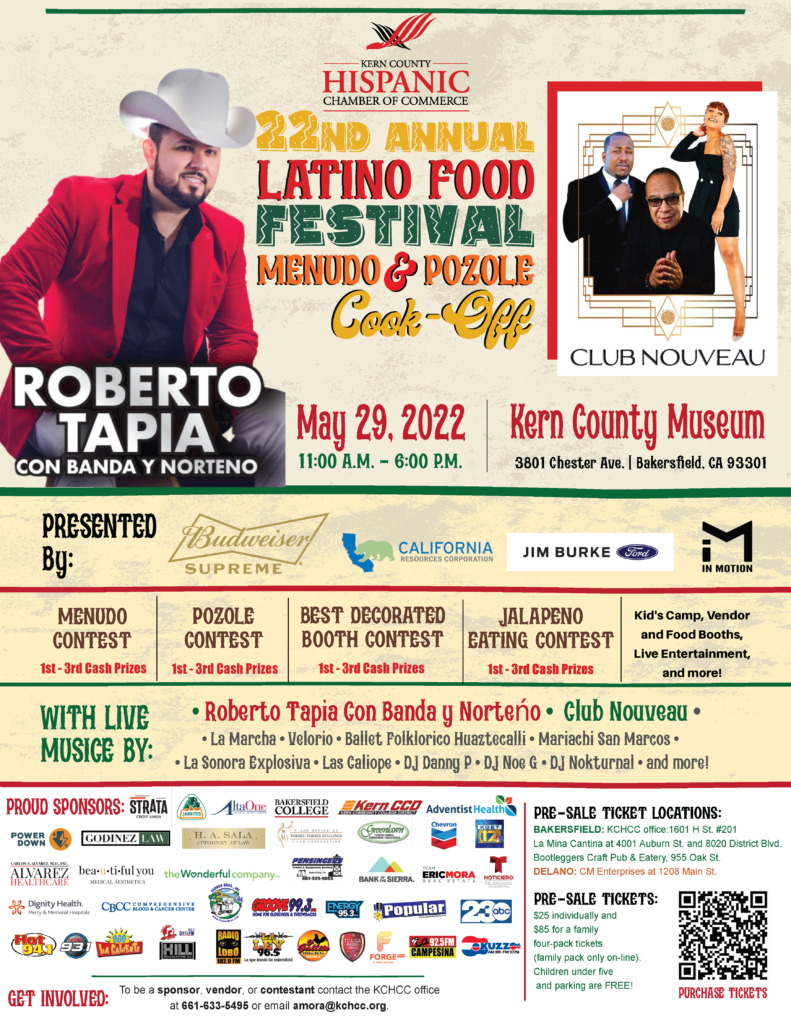 Get ready for a good time at the 22nd annual Latino Food Festival Menudo and Pozole Cook-Off. This year's event will be held on Sunday, May 29, 2022, at the Kern County Museum, 3801 Chester Avenue.
HEADLINE PERFORMERS:
Roberto Tapia Con Banda Y Norteño AND Club Nouveau
Other entertainment includes La Marcha, Califas, Velorio, Ballet Folklorico Huaztecalli, Mariachi San Marcos, La Sonora Explosiva, Las Caliope, DJ Danny P, DJ Noe G, DJ Nokturnal and more.
Prices vary for other vendor booth categories. Potential vendors as well as sponsors are being asked to contact the KCHCC office at 661-633-5495 or email amora@kchcc.org.
Pre-sale tickets are $25 individually and $85 for a family four-pack tickets (family pack only on-line). Children under five and parking are free. Pre-sale tickets can be purchased at the following Bakersfield locations: KCHCC office at 1601 H St. #201 near Truxtun Avenue; La Mina Cantina at 4001 Auburn St. and 8020 District Blvd.; and Bootleggers Craft Pub & Eatery, 955 Oak St. In addition, tickets are sold at CM Enterprises at 1208 Main St. in Delano.
Pre-sale tickets can also be purchased online by visiting the following website: www.kchcc.org
Tickets at the door will be $30 each, and children and parking under five are free.
*********
Festival De Comida Latina con Concurso de Menudo y Pozole Edición 22, Domingo 29 de Mayo en Museo Del Condado de Kern en Bakersfield, para comprar Boletos visite www.kchcc.org or llame 661-633-5495.
Museo Del Condado de Kern
En Bakersfield, California
3801 Chester Ave 93301
LIVE ENTERTAINMENT SCHEDULE
STAGE 1
11:00 a.m. D.J. X
12:00 p.m. Ameyaltzin Yolihuani Danza Mexica
1:00 p.m. Ballet Folklorico Huaztecalli
3:00 p.m. DJ X
STAGE 2
11:00 a.m. D.J. Nokturnal
11:30 a.m.- 1:00 p.m. Velorio
1:00 p.m.- 2:00 p.m. Mariachi San Marcos | Ballet Folklorico Huaztecalli | D.J. Nokturnal
2:00 p.m.- 3:30 p.m. La Marcha
3:30 p.m.- 4:30 p.m. Jalapeno Eating Contest | D.J. Nokturnal
4:30 p.m.- 6:00 p.m. La Sonora Daminita
STAGE 3
11:00 a.m. D.J. Danny P / D.J. Noe G
11:30 a.m.-12:30 p.m. Mariachi San Marcos | Ballet Folklorico Huaztecalli
1:00 p.m.-  2:00 p.m. D.J. Danny P / D.J. Noe G
2:00 p.m.-  3:00 p.m. Califas
3:00 p.m.-  4:00 p.m. Club Nouveau | D.J. Danny P / D.J. Noe G
4:30 p.m.-  6:00 p.m. Roberto Tapia Con Banda Y Norteno