In honor of "Women's History Month," the Kern County Hispanic Chamber of Commerce is proud to introduce you to Las Caliope, Bakersfield's first all-female (Latina) fusion trio, as part of our Latinas in Business & Leadership series.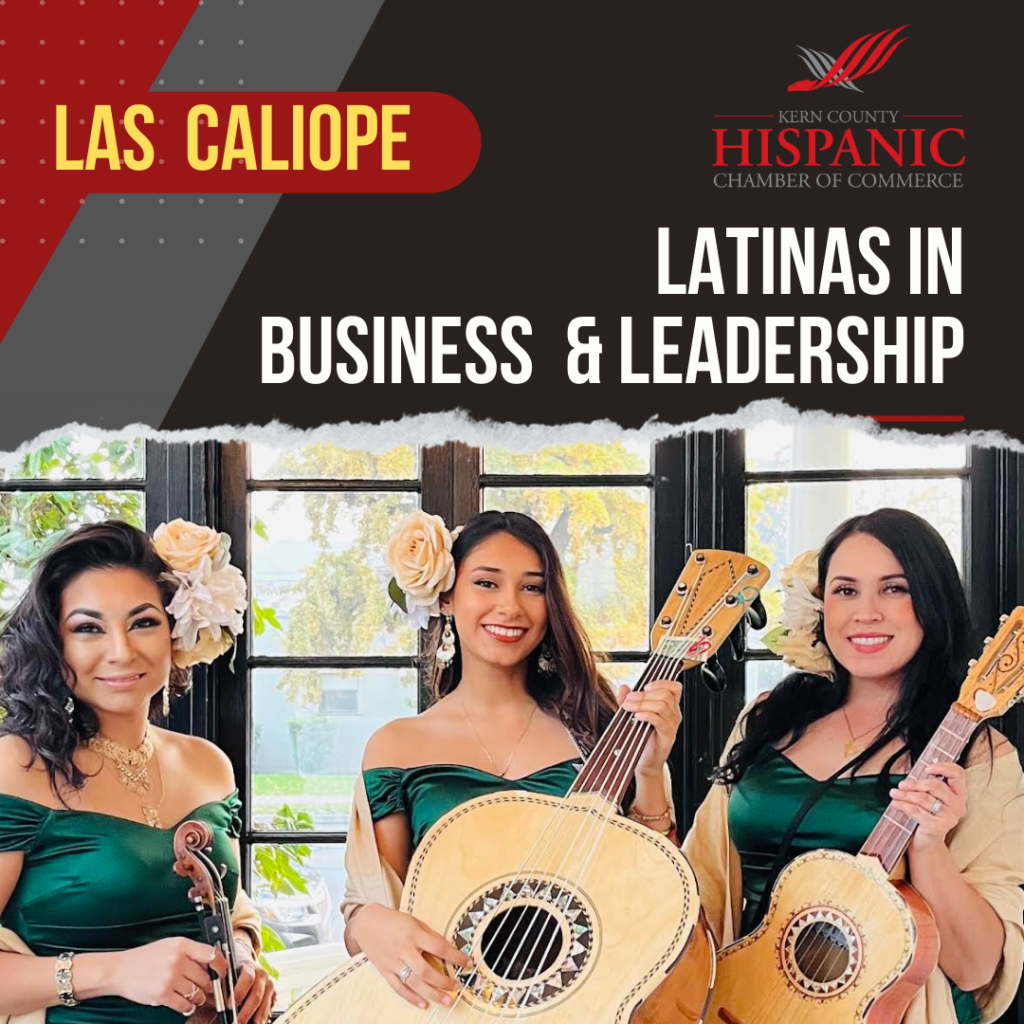 Las Caliope consists of a violin, guitarron, vihuela & is also alternated with a steel-acoustic guitar! The trio is made up of Celéne, Tagacy and Rosana – three driven and multi-talented female musicians.
Before Las Caliope was formed, each woman performed in various groups and at times, were the only female members in their mariachi ensemble. Once they became acquainted with one another, they started rehearsing in January 2021. They incorporate a variety of styles and genres such as Country, Classical, Pop, Mariachi & Cumbias!
Celéne is the trio's visionary founder. She is an amazing violinist that helps her Calíope sisters by adding melody & harmony. She is the SOUL of the trio.
Celéne is a fierce violinist that has had the opportunity to perform at Carnegie Hall at the age of 14 with Porterville High School & Musical Director, Juan Morales, former member of Mariachi Los Camperos. At the age of 14, she also performed with a semi-professional female Mariachi, Las Adelitas de Jose Luis Salinas. Celéne has been known to perform with a wide variety of local Mariachi bands throughout Bakersfield. She has opened concerts for Mariachi Vargas de Tecalitlán with Mariachi Garibaldi de Jimmy Cuellar.
As a child, Celéne faced bullying and cruelty. She turned her sadness into strength. As a mother Celéne teaches her children that women can excel and provide for their children while working hard doing what they love! She says being a Chicana, she is proud to represent her father's home Guadalajara, Jalisco. She embraces her culture. Even though traditional mariachi and classical music is her foundation, she loves bringing creative with Las Caliope.
Tagacy is the trio's HEART. She is one amazing team-musician and helps her Calíope sisters musically! Her weapons of choice are violin, bass, vihuela & violin! She's a multi-talented musician. Tagacy has proved to herself and to others that "guitarroneras" can perform just as good as male musicians.She is a full-time student majoring in Human Biology.
Rosanna is the VOICE of the trio. Her weapon of choice is the vihuela & guitar, and occasionally her Fender acoustic-electric guitar! She is an outstanding vocalist  and has performed background vocals for professional artists such as Jenni Rivera & Joan Sebastian! She has also accompanied Christian Nodal at the Latin American Music Awards. She is currently a member of a professional all-female stringed-mariachi, Las Colibrí. Expanding her musical career, she has recorded demos and commercial jingles. Rosanna is a dedicated wife and mother that is also pursuing her Masters of education in teaching. Rosannas best advice for all women is, it's never too late to make your dreams happen!