International Women's Day: Special Highlight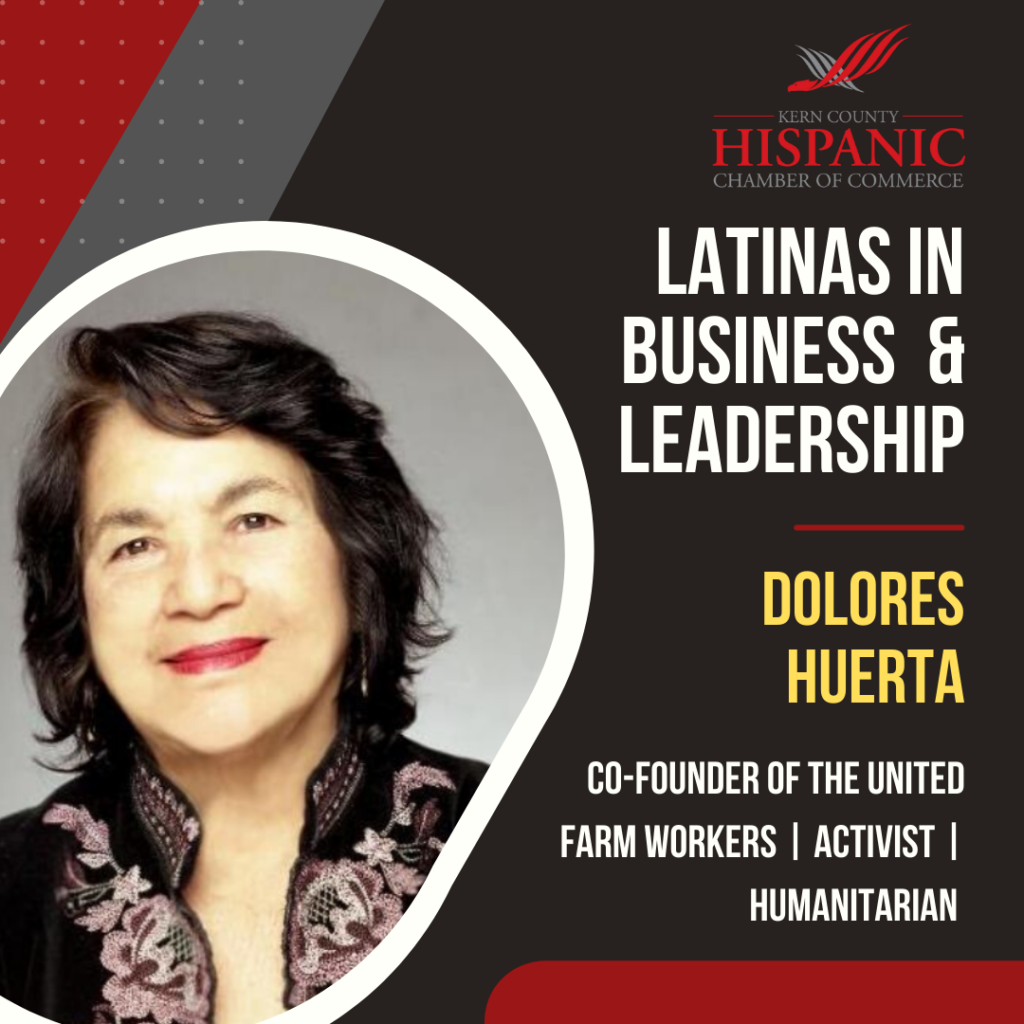 In honor of "Women's History Month," the Kern County Hispanic Chamber of Commerce is proud to introduce you to Dolores Huerta, as part of our Latinas in Business & Leadership series.
Co-founder of the United Farm Workers Association, Dolores Clara Fernandez Huerta is one of the most influential labor activists of the 20th century and a leader of the Chicano civil rights movement.
Huerta received an associate teaching degree from the University of the Pacific's Delta College. In 1955 Huerta began her career as an activist when she co-founded the Stockton chapter of the Community Service Organization (CSO), which led voter registration drives and fought for economic improvements for Hispanics. She also founded the Agricultural Workers Association. Through a CSO associate, Huerta met activist César Chávez, with whom she shared an interest in organizing farm workers. In 1962, Huerta and Chávez founded the National Farm Workers Association (NFWA), the predecessor of the United Farm Workers' Union (UFW). Huerta served as UFW vice president until 1999.
Despite ethnic and gender bias, Huerta helped organize the 1965 Delano strike of 5,000 grape workers and was the lead negotiator in the workers' contract that followed. Throughout her work with the UFW, Huerta organized workers, negotiated contracts, advocated for safer working conditions including the elimination of harmful pesticides. She also fought for unemployment and healthcare benefits for agricultural workers. Huerta was the driving force behind the nationwide table grape boycotts in the late 1960s that led to a successful union contract by 1970.
In 1973, Huerta led another consumer boycott of grapes that resulted in the ground-breaking California Agricultural Labor Relations Act of 1975. Throughout the 1970s and '80s, Huerta worked as a lobbyist to improve workers' legislative representation. During the 1990s and 2000s, she worked to elect more Latinos and women to political office and has championed women's issues.
The recipient of many honors, Huerta received the Eleanor Roosevelt Human Rights Award in 1998 and the Presidential Medal of Freedom in 2012. As of 2015, she was a board member of the Feminist Majority Foundation, the Secretary-Treasurer Emeritus of the United Farm Workers of America, Kern County Hispanic Chamber of Commerce "Woman of the Year" and the President of the Dolores Huerta Foundation.
#KCHCC2022 #KCHCCLatinas2022 #InternationalWomensDay