In honor of "Women's History Month," the Kern County Hispanic Chamber of Commerce is proud to introduce you to Connie Arroyo-Rodriguez, as part of our Latinas in Business & Leadership series.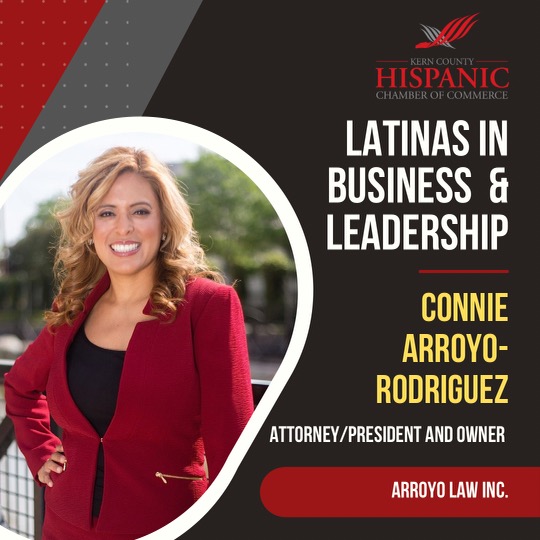 "As I was in college, I unexpectedly became a single mother. I was then told that because I was a young, single mother, there was no way I would make it through college—much less law school. I wasn't upset. I knew they were mistaken," she says.
As a first-generation Mexican girl, Connie dreamed of going to college, being self-sufficient, and making a positive impact in peoples' lives. She wanted to better herself, honor her parents, and to help those people who could not otherwise help themselves.
She found herself juggling full-time waitressing, full-time parenthood, and full-time school.
Connie accomplished her goal and opened her law practice. "I gotta tell you: It is the most rewarding experience I have lived thus far. My law office is where I get to help my injured clients and make a difference in their lives," she says.
With this in mind, she'd like to share this thought with young women out there that have a dream that seems impossible, "YOU DECIDE WHAT YOU ARE CAPABLE OF.  With a lot of hard work, self-discipline, and focus:  You can author your own story.  Dream it. Write it. Live it."