In honor of "Women's History Month," the Kern County Hispanic Chamber of Commerce is proud to introduce you to Erica Torres Garewal, as part of our Latinas in Business & Leadership series.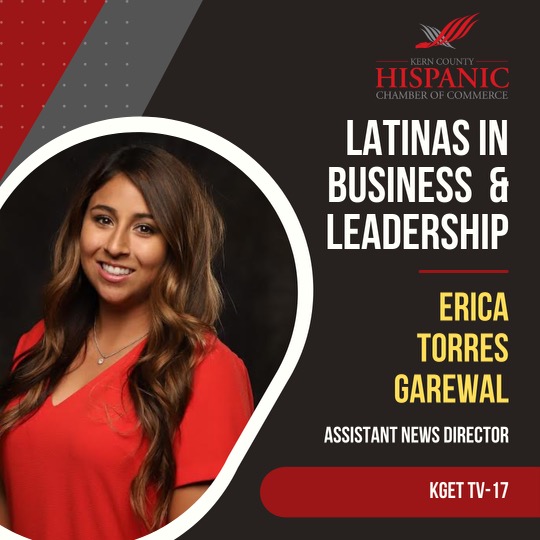 Erica Torres Garewal is the Assistant News Director at KGET TV-17 and a five-time Emmy-winning news producer.
She began her career at 17 News as an intern and officially joined the team in March 2010. She started as an associate producer for 17 News at Sunrise and was promoted as a producer. She has produced every newscast including the 5 p.m. – a coveted position at 17. Erica was promoted as Assignment Manager in 2017 then Assistant News Director in 2020. She now oversees the day-to-day operations of the newsroom and is in charge of assigning the local coverage you see on TV and online.
Erica was born and raised in Bakersfield. She graduated from Liberty High school in 2006. She continued her education at Bakersfield College and California State University, Bakersfield, where she earned a degree in Communications.
In 2020, Erica was selected as Bakersfield Life Magazine's 20 Under 40 People to Watch. The program recognizes local leaders and champions of the community.
"Our mission at KGET is simple: to make our town a better place. The Kern County Hispanic Chamber of Commerce does this every day," she says. "From vaccination clinics to supporting local businesses, KCHCC continuously gives back to our community and provides so many opportunities for folks in my hometown. I'm proud of our partnership with KCHCC and together we will continue to make our community a better place."